I first heard Darren Hayes' voice around 1998 singing 'Truly Madly Deeply' on the radio and I thought Savage Garden was a boy band like N-Sync or whatever that other one was. But to my relief it was only two boys and I never once caught them jumping around in unison.

Darren Hayes is one of those singers who can sing 'Row Row Row Your Boat' and it will still sound amazing. Take away his toothy grin (that can lift even the most miserable people out of the doldrums), his sparkly blue eyes and his voice alone will make you forget to breath. It can go intensely high or when it gets breathy, well, maybe that's for another magazine. He is locked into my top singers of the world triad...you know who they are.
But Darren Hayes is on his own now because Daniel Jones…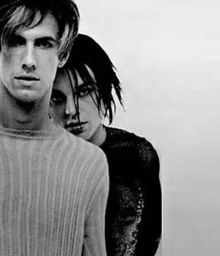 Check out Goth Boy Darren! (right)
Is that BLACK lipstick? Don't worry D
we all did it...uh, some of us just never grew out of it.