A young man clad neatly in a black turtle neck, black leather pants and a solemn, chiseled face, turns to his girl who wears the same expression but a black high cut mini and tight spandex tee instead. Together, they walk down the brightly lit High Street, where the shop windows glow with goods to buy and men and women's eyes sparkle as they pull out their plastic cards and lay them on the table. As the two approach the crowd that has gathered in front of the Riley Hawk Gallery, they are no longer visible, for they blend into the masses of black turtlenecks, leather pants and solemn chiseled faces.
| | |
| --- | --- |
| On the first Saturday of every month, The Gallery Hop takes place on Route 23, just north of downtown, in this fabulous place named Columbus, Ohio. The area is known as the Short North, and patrons of this event are meant to "hop" from gallery to gallery enjoying, art, hor d'ouvres and shopping. It starts at 7pm but I get there about 8pm, I'm usually late for everything. I've been going now for about 11 years and something keeps me going back. | Store fronts of High Street during The Gallery Hop |
I invite as many friends as possible; an event like this requires a group to enjoy together the sounds of Irish bands, fiddlers three and the scratchy beats of a techno DJ mixing.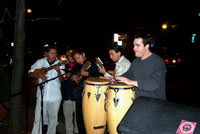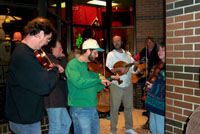 Some of the bands offer cd's to purchase while they play.

Editor Dreama enjoys a frothy cappuccino at
THE COFFEE TABLE, a coffee shop located on the corner
of Buttles Avenue and High Street.
On a cold night, a nice hot cup of Cappuccino is a welcomed treat for the avant-garde who pack themselves into the tiny, smoky coffee shops to watch the bourgeoisie pass by. Joking to each other they ask, "What is Art?" as they toss their heads to the right, mimicking an actor they once saw in a black and white movie.
One can spend hours searching curiously through the antiques, no one leaves with out purchasing something.

Even if I cannot get into the packed galleries or coffee shops, I make a note to hit my favorite
antique store, Echoes of Americana, located at
24 East Lincoln Street. You never know what treasures you will find hidden deep inside the little blue house,
scented with apples and cinnamon candles, where there is always some new old thing to discover.


The homelike atmosphere of Echoes of
Americana invites you in to enjoy the
treasures of years gone by.

VSGal happily sits in her new chair
recently purchased at Curio-A-Gogo.
Also, my favorite curiosity shop Curio-A-Go Go,
located at 17 Buttles Avenue has everything
from gorgeous comfortable chairs, chenille bed linens and natural linen rinses, such as fresh cut
grass and lavender, to rubber VW satchels
and rubber bottle cap belts complete with a seat
belt latch.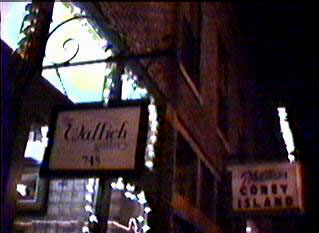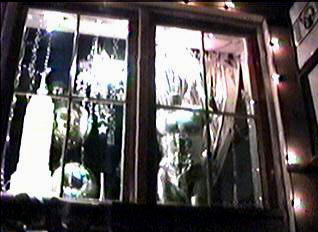 Wallich Gallery, Phillips Coney Island and Torso, some more great shops on the Short North.
For some, the fun is in walking up and down the street mingling with all the people. Perhaps they have no want for art, they are not hungry, or they simply enjoy the energy and mystery that the historic Short North possesses, the curiosity of night living, or the need for lurking in the dark.
Dance to the techno baby...

Dreama dances for picture taken by Dan in the black light room
at Water Beds 'N Stuff

...shine your black light on me...
I do not know what keeps me going back to the hop every month. Is it the art? Is it the food? Or is it the dark desire I have to watch the people? Whatever it is, I must go back.

Filmmaker, J. Joseph Salyer (left) converses with Editor, Dreama (right)
on a fabulous sofa at Functional Furnishings. Note: The satchel on
Mr. Salyer's lap was purchased at Curio-A-Gogo.
And on a clear night, one can find my friends and I darting in and out of every shop we can fit into while sipping coffee or juice. "What is a bagel?" I ask, tossing my head to the right, mimicking an artist I once saw in a black and white movie.
~dreama
Widows
By Dreama
(A poem inspired by the Short North)


On the street
lighted with neon
signs advertising
beer, books, art,
and women.
I see them.
Shrouded with
smiles, blond hair,
or dogs.
Walking from shop
to shop.
Alone-
as if a friend were
close by.
Buying flowers
or cds,
they drop their change
onto the counter
and wonder what movie
it will be tonight
to get them through.
A nod as they
make their way,
silently,
to the exit.
Careful not to touch
or meet the eyes
of those passing.
On the street
lighted with neon
signs advertising
beer, books, art,
and men.
I see him.
Alone.
Smiling-
as he drops
flowers into the pond.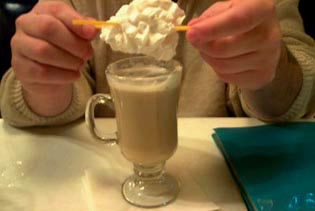 A little too much cream on Mr. Salyer's Irish coffee.

For more information on the shops and restaurants of the Short North please visit:
http://www.shortnorth.com

EASTER ISSUE INDEX

THE BOTTOM DRAWER