A fond farewell to
Dave Thomas

By Jim
The world said goodbye on January 8, 2002 to Wendy's Founder Dave Thomas. He lost his life to cancer of the liver after a 10 year battle.
I can't help but feel a sense of sadness by Dave's passing. I'm sure I am not the only one who feels a loss. He was a friendly face to many who saw him on TV. You couldn't help but think if you saw him on the street he would be dressed like your average Joe and he would wave and say "Hello!"
The story of Dave also shows how great he was in many ways. He was adopted at 6 weeks old and worked hard to become a very successful man. Though he was successful he was never above the employees who worked for his company. He also gave back to the community in many ways through adoption work and community service.
Something about him just tells you inside that this was a great man and he will be missed by all.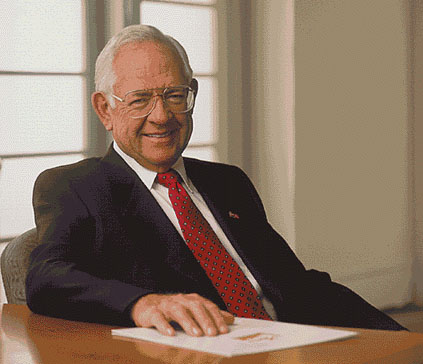 THOMAS R. David "Dave" Thomas, 69, of Columbus and Ft. Lauderdale, died on January 8, 2002 in his home in Ft. Lauderdale of cancer of the liver. He is survived by his wife of 47 years, I. Lorraine Thomas, and children, Pam (Steve) Farber, Ken (Kathy) Thomas, Molly Thomas, Wendy (Paul) Morse and Lori (John) Seitz, and grandchildren, Ashley Floto; Andrew and Alyson Farber; Kristen, Michael, Sean, Stephanie and Shannon Thomas; Christopher and Madison Postlewaite; Amanda, Corey, McKenzie and Natalie Morse; and J.T. and Trevor Seitz. He was born July 2, 1932 in Atlantic City, NJ and was adopted at six weeks old. Dave went on to build a career in the restaurant industry, working for the Hobby House Restaurant, Kentucky Fried Chicken and Arthur Treachers. In 1969, he founded Wendy's Old Fashioned Hamburgers restaurants with the opening of the first Wendy's on Broad Street in Columbus, Ohio. The company has become one of the world's largest restaurant chains, with more than 6,000 restaurants. Well-known as Wendy's amiable TV spokesperson, Dave appeared in more than 800 commercials during the 13-year run of the popular advertising campaign. He founded the Dave Thomas Foundation for Adoption in 1992 and worked tirelessly to help waiting children find permanent, loving homes. Beside his foundation, he actively supported many community organizations including Children's Hospital of Columbus, St. Jude Hospital in Memphis, Children's Home Society of Florida and others. Dave served in the U.S. Army in Germany during the Korean Conflict, eventually becoming one of the youngest soldiers to manage an Enlisted Men's Club. He retired as a Staff Sergeant. In 1995, he was conferred a 33° Mason. Family will receive friends at the Wendy's Corporate Headquarters Main Lobby, 4288 W. Dublin-Granville Road, Dublin, Ohio from 6-9 p.m. on Wednesday, January 9, 2002, and from 12-3 and 6-9 p.m. Thursday. Funeral Service 10 a.m., Friday, January 11, 2002, at the Upper Arlington Lutheran Church, 3500 Mill Run Drive, Columbus, Ohio. Pastor Larry Thompson and Rev. James Wessel officiating. Private entombment at Union Cemetery. A memorial service will also be held at 10am, January 18, at First Baptist Church in Ft. Lauderdale. Arrangements by SCHOEDINGER NORTHWEST CHAPEL, 1740 Zollinger Road. Expressions of sympathy may be sent to the family online at www.Schoedinger.com. The family has requested that in lieu of flowers, donations be made to: Dave Thomas Foundation for Adoption, P.O. Box 7164, Dublin, OH 43017, Arthur G. James Cancer Hospital & Richard J. Solove Research Institute, The Ohio State University, 300 W. 10th Avenue, Columbus, OH 43210, The Dave Thomas Family Primary Care Center at Children's Hospital, 700 Children's Drive, Columbus, OH 43205, The Wellington School, 3650 Reed Road, Columbus, OH 43220, or the Children's Home Society of Florida, 401 NE Fourth St., Ft. Lauderdale, FL, 33301, in Dave's memory.
Obituary taken from The Columbus Dispatch



THE RED ISSUE INDEX

THE BOTTOM DRAWER